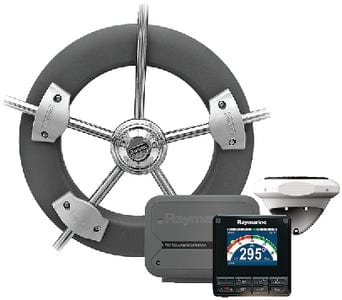 EV100 WHEEL AUTOPILOT SAIL
Pack Contains:
  Designed for Evolution mechanical and hydraulic autopilot systems. SeaTalkng networking enables a single cable connection for power and data to the Evolution ACU (actuator control unit), extended SeaTalkng and NMEA2000 networks.
Actuator Control Unit-100
  Specifically designed to complement Raymarine?s unique wheel-drive and tiller-drive applications, the ACU-100 provides a powerful and secure interface between steering systems and the revolutionary EV-1 course computer and 9-axis sensor. Fully sealed so may be mounted above decks on boats where space is limited.
p70 / p70s Autopilot Control Head (Sail)
  The p70 / p70s autopilot control head is a push-button operation controller designed primarily for sailboats. Advanced LED backlighting offers low power consumption and delivers vibrant colour and contrast. Wide horizontal and vertical viewing angles ensure the display can be seen clearly from acute positions. The p70 / p70s control head features the LightHouse user interface and a start up wizard to help you configure the pilot quickly and easily.
  The EV-100 wheel pilot comprises a fully enclosed wheel-drive for simple installation and superb autopilot performance. Quick and easy installation, Fits most types of wheel, Simple robust clutch engagement mechanism.
  Specifications: Maximum recommended laden boat displacement: 7,500kg (16,500lbs), Revs per minute (rpm): 9, Thrust: 30Nm, Connections: STng (x1), NMEA 2000 with adapter cable
Evolution Cabling Kit - Contains:
  ng Power Cable (0.4m)
  1 x SeaTalkng Backbone Cable (5m)
  1 x SeaTalkng Spur Cable (0.4m)
  1 x SeaTalkng 5-way Connector Block
  2 x SeaTalkng T-piece Connector
  2 x SeaTalkng Terminator
SOME SHIPPING RESTRICTIONS AND ADDITIONAL CHARGES MAY APPLY ON THIS ITEM. IF APPLICABLE OUR TEAM WILL CONTACT FOLLOWING PURCHASE