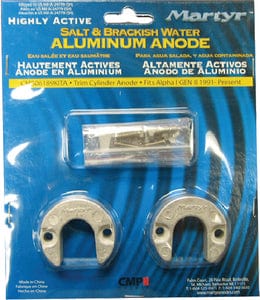 ANODE MERCURY BRAVOKIT ALUM
ALPHAKIT Includes:
CM762145 Trim Tab
CM806105 Bearing Carrier
CM821629C Driveshaft Housing
CM821631 Gimbal Housing
CM806189 Trim Ram (2)
806189KIT Includes:
806189 Alpha Lift Ram (2) Material Aluminum
Price is per unit.Also available in a case of -
SOME SHIPPING RESTRICTIONS AND ADDITIONAL CHARGES MAY APPLY ON THIS ITEM. IF APPLICABLE OUR TEAM WILL CONTACT FOLLOWING PURCHASE
. Please call us if interested in case pricing.