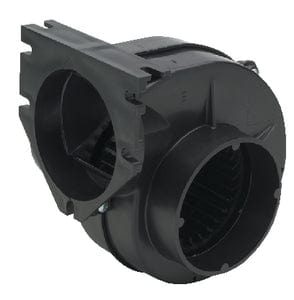 BLOWER-FLANGE MOUNT F/3 HOSE
Radial flow design. Produces a substantial output at relatively low RPM's. Low noise level make excellent for use in heads & galleys. Massive 3" diameter motor idles at 3100 RPM's assuring long life. Housings are molded of tough glass filled composite resin.
Flange Mount # 54124
- Conventional design outlet flange to mount directly to the exhaust opening in the hull. Molded mounting brackets simplify installations.
Remote Mount # 54154
- 3" ducts attach to both the inlet and the outlet and readily adapt to new or existing vents and collector boxes. Brackets are molded in. Mount Flange Hose 3" CFM 112 Volts 12 Amps 5