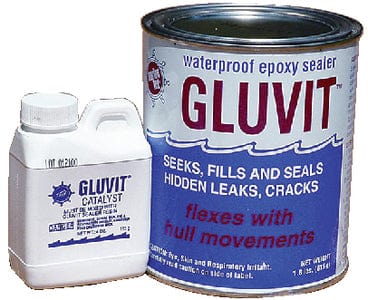 GLUVIT 1 QT C/W CATALYST
Paintable epoxy seeks, fills and seals cracks in fiberglass, wood and metal. Hard protective coating flexes with hull movements. Deteriorated wood can be renewed with a few strokes to penetrate and strengthen stringers, decking and molding. Also seals leaky aluminum seams, rivets, and leaks around cabins or decks. On wooden hulls, Gluvit seals and protects planks and sheeting against water absorption and marine parasites. On aluminum hulls, Gluvit seals seams and rivets and acts as a barrier coat to minimize glavanic corrosion. Long working time. Easily topcoated with bottom or topside coatings and most paints.
Quart kit
covers approx. 25 to 35 sq. ft. 6 to 8 mils.
Gallon kit
covers approx. 100 to 130 sq. ft. 6 to 8 mils. Size Quart kit
Price is per unit.Also available in a case of 6
SOME SHIPPING RESTRICTIONS AND ADDITIONAL CHARGES MAY APPLY ON THIS ITEM. IF APPLICABLE OUR TEAM WILL CONTACT FOLLOWING PURCHASE
. Please call us if interested in case pricing.