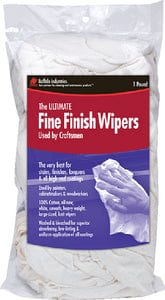 ULTIMATE FINE FINISH WIPER 1#
100% Cotton, all new, white, smooth, heavy-weight, large-sized, knit wipers. Washed and bleached for superior absorbency and low lint. All usable-sized pieces. Used for application and clean up when painting, staining, applying lacquers, fiberglass and all finish work. Color White Pack 1 lb.
Price is per unit.Also available in a case of 25. Please call us if interested in case pricing.