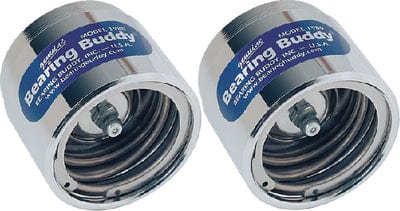 2.441 DIA.BEARING BUDDY 2/PK
Properly installed and maintained, Bearing Buddy
®
prevents wheel bearing failure and eliminates bearing repacking. Trailer wheels can be completely submerged. The automatic pressure relief feature allows excess grease to escape if the hub is overfilled. Size 2.441" Bearing Cone LM67048, (hub counterbored, 15123 & Others Bearing Cup LM67010,
15245 Pack 2
Makes hubs safely submersible


Easy to install


Stainless steel internal parts and triple chrome plated steel barrel
Model 1980A
has a blue ring for indicating lubricant level.